Alright, so I am being a bit cheeky here. (Come on, even the big-name media brands use hyperbolic headlines!)
But, buried within a 548-page United Nations report on the Libyan Civil War is a troubling account about an autonomous military drone (specifically an "unmanned aerial vehicle", or UAV) attacking soldiers without any direct human command.
Described as "a lethal autonomous weapons system", the drone was powered by artificial intelligence and used by government-backed forces against an enemy militia. According to the report, these fighters "were hunted down and remotely engaged by the unmanned combat aerial vehicles or the lethal autonomous weapons systems" and even when they retreated, the drones subjected them to "continual harassment"; no casualties are mentioned.
The report further states that the weapon systems "were programmed to attack targets without requiring data connectivity between the operator and the munitions"—in other words, it was a "fire and forget".
However, it is unclear whether the drone was allowed to select its target autonomously or did so "on its own", so to speak. Either way, some observers already consider it the first attack in history carried out by a drone on their own initiative.
It is worth mentioning that the drone in question is a Kargu-2, a small rotary drone built by a Turkish company closely affiliated with that country's government. Turkey has emerged as an unlikely pioneer in drone technology: another one of its drones, the larger and better armed Bayraktar TB2, is credited with helping Azerbaijan win its war with Armenia in 2020; after years of literally losing ground against a militarily superior foe, Turkey's ally gained a decisive edge because of these drones.
Drone strikes — targeting Armenian and Nagorno-Karabakh soldiers and destroying tanks, artillery and air defense systems — provided a huge advantage for Azerbaijan in the 44-day war and offered the clearest evidence yet of how battlefields are being transformed by unmanned attack drones rolling off assembly lines around the world.

The expanding array of relatively low-cost drones can offer countries air power at a fraction of the cost of maintaining a traditional air force. The situation in Nagorno-Karabakh also underscored how drones can suddenly shift a long-standing conflict and leave ground forces highly exposed.[…]"

Drones offer small countries very cheap access to tactical aviation and precision guided weapons, enabling them to destroy an opponent's much-costlier equipment such as tanks and air defense systems," said Michael Kofman, military analyst and director of Russia studies at CNA, a defense think tank in Arlington, Va.

"An air force is a very expensive thing," he added. "And they permit the utility of air power to smaller, much poorer nations."

In Azerbaijan, the videos of the drone strikes have been posted daily on the website of the country's Defense Ministry, broadcast on big screens in the capital, Baku, and tweeted and retweeted online.

Washington Post
Little wonder why Ukraine is rumored to be seeking these same drones to take back territory controlled by Russian-backed separatists, or why Iraq is considering acquiring some to hunt down ISIS militants and even to shore up gaps in its fledging air force. (Unsurprisingly, Turkey has seized on the success and prestige of its drone industry by proclaiming itself one of the world's three leaders in combat drone technology.)
To be sure, the U.S. is still far and above the dominant user of combat drones, due in large part to the massive expense of acquiring and maintaining the highest-end systems. Within a decade it may have up to 1,000 drones at its disposal, well above the less than 100 employed by chief rivals China and Russia.
Of course, a lot can happen between now and 2028; a technology that was once exclusive to just a handful of nations is now proliferating across the world, thanks to innovations that make drones easier and cheaper to develop, build, and operate. As of 2019, close to 100 countries use military drones — albeit the vast majority for surveillance purposes — up from around 60 a decade earlier. There are at least 21,000 drones in active service worldwide (though the number may be much higher), spanning over 170 different systems; 20 nations are known to have armed, higher-end models.
As to be expected, China and Russia are among the countries with armed drones, but so are the likes of Israel, Iran, Pakistan, and Nigeria. So far, only ten countries are known to have used drone technology on the battlefield: the U.S., Israel, the U.K., Pakistan, Iraq, Nigeria, Iran , Turkey, Azerbaijan, Russia, and the United Arab Emirate.
Note that most of these countries are not among the wealthiest or most powerful in the world, which can also be said of several more countries currently developing drones. The D.C.-based think tank New America has an excellent up-to-date report on this fast-moving world of drone tech, which includes the following infographics: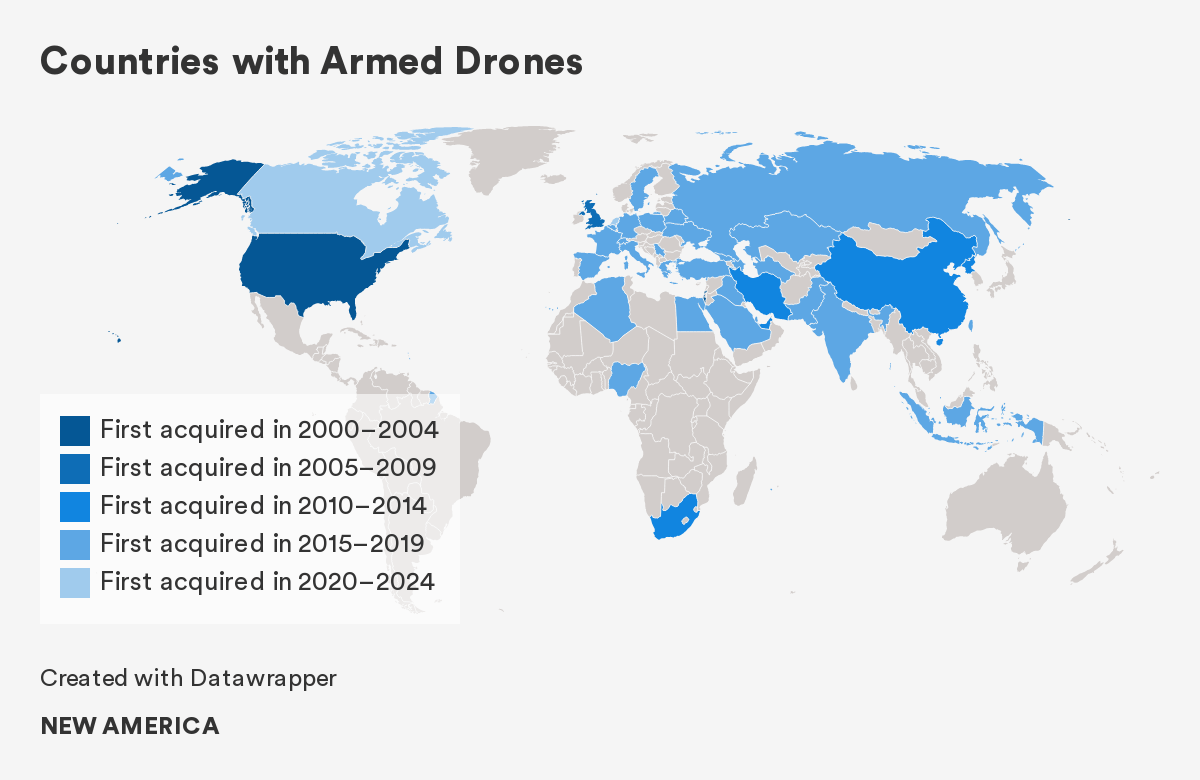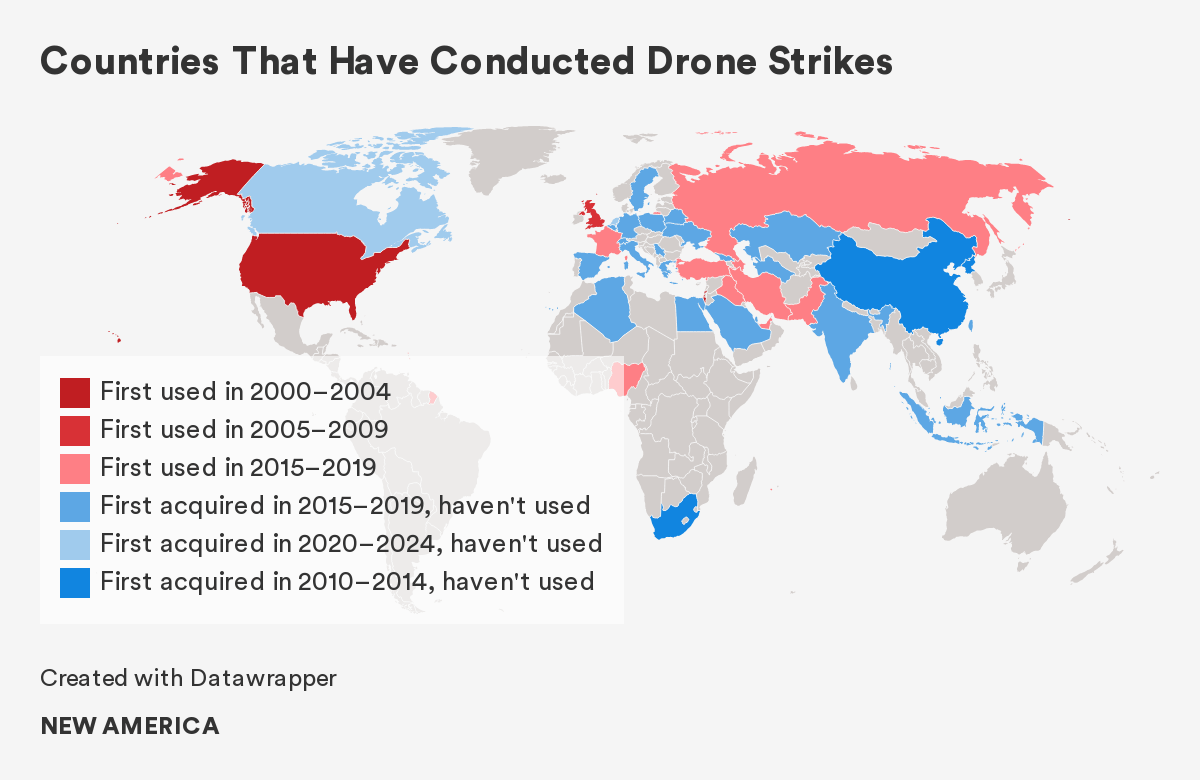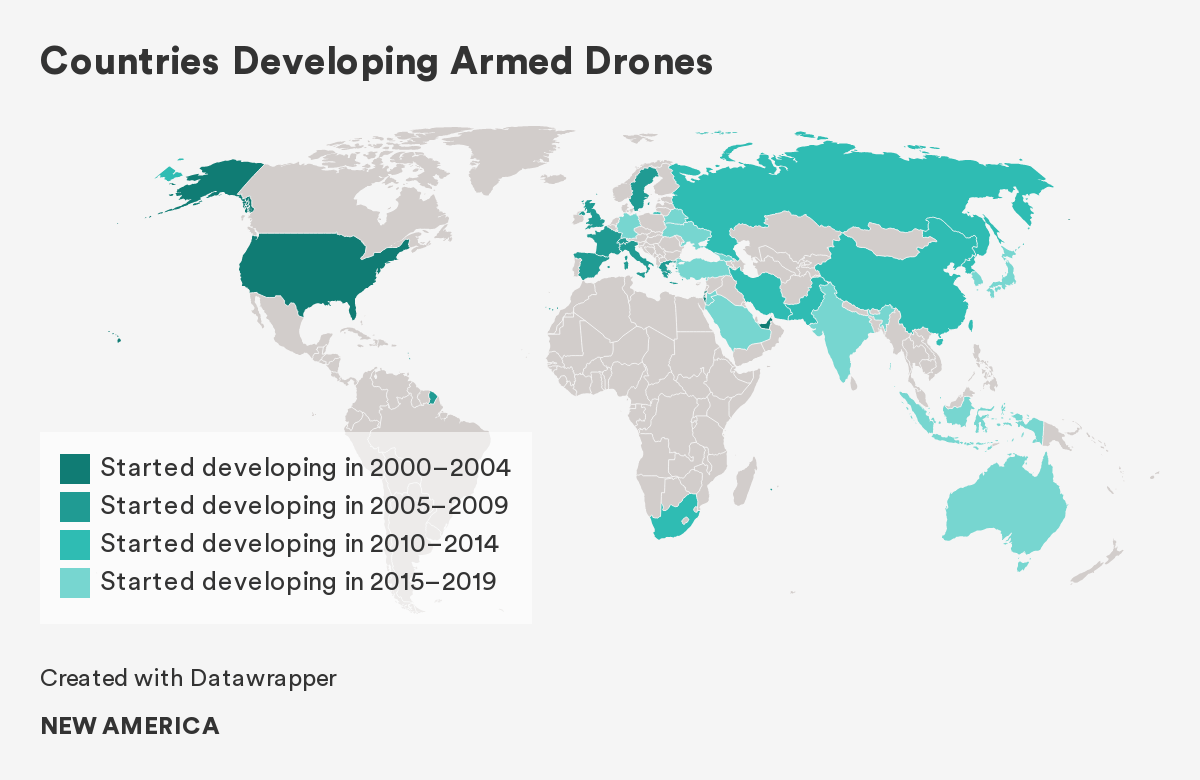 Drones have become accessible enough that they are even utilized by nonstate actors, ranging from paramilitary groups to terrorist organizations and even cartels
Military drones have come a long way since Israel first used them for surveillance purposes in the 1960s (the U.S. used Israeli-made UAVs to provide intelligence during the Bosnian War of the 1990s, and Israel remains a leading exporter of military drones). Indeed, just a few months after the U.N. report, Israel reportedly used a "swarm of drones" to identify and strike targets in the Gaza Strip—the first time this type of A.I. has been used. These swarms can number in the hundreds, coordinating with one another as they cover far more ground, and far more quickly, than other means. This is no doubt why China is also pioneering this particular type of drone tech, reportedly developing rocket-armed helicopter drones that can overwhelm targets like a swarm of angry bees—with just the push of a faraway button.
Not to be outdone, Russia is also looking to build an "army of robot weapons" backed by Chinese advances in A.I. tech. A report drawing on Pentagon intelligence identified two dozen platforms being developed by the Russian military incorporating some degree of AI or autonomy; these include land, air, and sea vehicles, specialized mines, A.I-powered logistical and training system, and supposedly even an anthropomorphic robot capable of dual-wielding firearms and driving cars. (This does not even include Russia's purported edge in hypersonic missiles, which is already engendering yet another arms race between the big powers.)
While a lot of this is no doubt posturing, there is zero doubt that countries of all shapes and sizes are going to pursue this tech and ultimately succeed. There were times when firearms, tanks, and aircraft were cutting edge tech limited to a handful of great powers; now, even the smallest military forces have them.
Of course, as some hapless Libyan militants can attest, none of that hardware has the potential to go off the rails like A.I. does…