Yesterday was an even more devastating anniversary than the bar exam.
On July 28, 1914—exactly one month after the assassination of Archduke Franz Ferdinand—Austria declared war on Serbia and the First World War began. Despite directly setting off the war, both nations would soon be overshadowed by the much bigger players they dragged with them: France, Germany, Russia, and the U.K.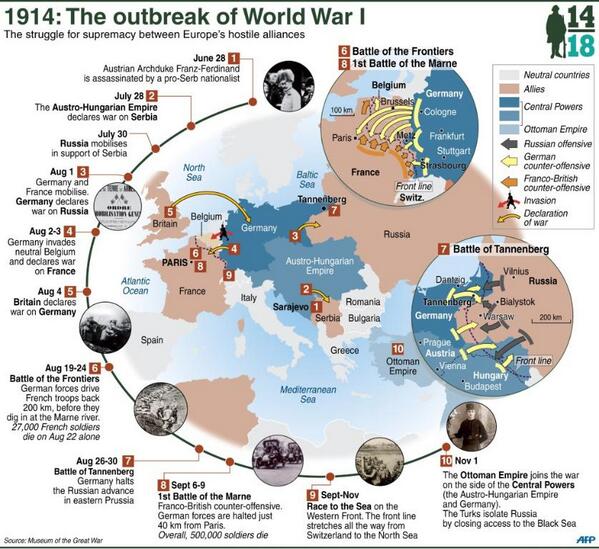 After putting up stiff resistance for the first year, Serbia was conquered by the end of 1915 and occupied by Austro-Hungarian forces until the war's end in 1918. Over 1.1 million Serbs died, including one out of four troops, up to a quarter of the population and 60 percent of men; proportionally, Serbia suffered more losses than any other country involved (the Ottoman Empire ranks second in this regard, losing 13-15 percent of people, followed by Romania at 7-9 percent).
For its part, the weak and declining Austro-Hungarian Empire lost over 2 million people, of whom 120,000 were civilians, amounting to about 4 percent of its total population. Having exhausted itself in its pyrrhic victory against Serbia, the country barely kept it together throughout the conflict, remaining a peripheral power dependent on German support; indeed, Austria-Hungary would ultimately collapse into several new countries, some of which would join Serbia to form a new multiethnic state called Yugoslavia.
All told, some 8 million fighting men were killed by combat and disease, and 21 million more were wounded. As many as 13 million civilians died as a result of starvation, exposure, disease, military action, and massacres. Four great empires and dynasties—the Hohenzollern, the Habsburg, the Romanov, and the Ottoman—fell, and the intercontinental movement of troops helped fuel the deadliest influenza pandemic in history. The ripple effects of the war, from the Great Depression, to World War II, to the Cold War, continue to be felt today. The war helped usher in the Russian Revolution, and ultimately the Soviet Union, the first major communist government (which ironically would play the pivotal role in helping end the second iteration of the war).
Better known are the grievances engendered by the post-war Versailles Treaty, which helped fuel the desperation and misery that became the Nazi's stock and trade. Even Japan saw its star rise further as a major world power, belatedly joining the Allies and getting a seat at the table as one of the leaders of the post-war League of Nations (no small feat for a non-European country).
In Casualties of History, John Arquilla describes the almost morbidly comical arrogance and stupidity of this meat grinder of a conflict:
"Yes, a second and even more destructive conflict followed all too soon after the "war to end all wars", impelling a name change from Armistice Day to Veterans Day. And the rest of the 20th century was littered with insurgencies, terrorism, and a host of other violent ills — most of which persist today, guaranteeing the steady production of new veterans, of which there are 22 million in the United States.

But despite the seemingly endless parade of wars waged and fresh conflicts looming just beyond the bloody horizon, World War I still stands out for its sheer horror. Over ten million soldiers died, and more than twice that number were wounded. This is a terrible enough toll. But what makes these casualties stand out even more is their proportion of the total numbers of troops mobilized.

For example, France put about 7.5 million soldiers in the field; one in five died, and three out of four who lived were wounded. All other major combatants on both sides suffered horribly: the Austro-Hungarian Empire's 6.5 million soldiers had a combined casualty rate of 74 percent. For Britain and Russia, the comparable figures totaled a bit over 50 percent, with German and Turkish losses slightly below one-half of all who served. The United States entered the conflict late, and so the overall casualty rate for the 4.3 million mobilized was "just" 8 percent. Even so, it is more than double the percentage of killed and wounded from the Iraq War, where total American casualties amounted to less than 4 percent of the one million who served.

Few conflicts in all of military history have seen victors and vanquished alike suffer such shocking losses as were incurred in World War I, so it is worth taking time to remember how this hecatomb came to pass. A great body of evidence suggests that this disaster was a product of poor generalship. Historian Alan Clark's magisterial "The Donkeys" conveys a sense of the incredible stubbornness of high commanders who continued, for years, to hurl massed waves of infantry against machine guns and rapid-firing artillery. All this went on while senior generals stayed far from the front. A British field commander, who went riding daily, even had soldiers spread sand along the country lane he followed, to make sure his horse didn't slip.
It is little wonder that in the face of Nazi aggression barely a generation later, most of Europe melted away and succumbed to occupation within a year. Most nations did not have the political or public will to endure yet another meat grinder of a conflict; indeed, the major powers could not imagine that anyone would actually want another war given all the bloodletting that went around. Perhaps the greatest tragedy of the First World War was the fact that even all that death and destruction failed to stem the hatred, cruelty, and aggression of monstrous men and their millions of supporters and collaborators; in fact, the shortsightedness and vindictiveness of postwar leaders—as had already been evidenced by their callous ineptitude on the battlefield—all but ensured that desperation and humiliation would give the likes of Hitler, Mussolini, and their minions plenty of currency to start an even bloodier.
Thanks goodness that, for now, that has not played out again all these decades later.