Before the emergence of the political units we now call countries, humans organized themselves in a variety of other ways, ranging from bands and tribes, to chiefdoms, kingdoms, and empires. Most of these entities were not proper countries as we think of them today, lacking a cohesive political or national identity, a firm boundary, or much in the way of an organized government.
The ancient societies of Egypt, Greece, China, Mesoamerica, the Indus River Valley, and Mesopotamia were among the exceptions, which is why they are recognized as "cradles of civilization", places where the first features of what we consider modern society emerged: agriculture, urban development, social stratification, complex communication systems, infrastructure, and so on.
The urban character of civilization is what I find most interesting, because cities were where power, both political and economic, was concentrated. Urban centers were the places from which rulers asserted their authorities. Cities are where democracy and republicanism took root, and where civic engagement survived through the Middle Ages in places like Florence, Venice, Krakow,and Hamburg.
This dynamic has changed little in the 21st century; in fact, it is arguably stronger and more pronounced than ever, as globalization, population growth, and advanced technology come together to create metropolises as populous, wealthy, and powerful as entire countries.
The following map, courtesy of CityLab, draws on data from 2015 to prove the incredible growth and prestige of modern cities (the data for cities comes from the Brookings Institution's Redefining Global Cities report, while the data for nations is from the World Bank's World Development Indicators; the map was compiled by Taylor Blake of the Martin Prosperity Institute).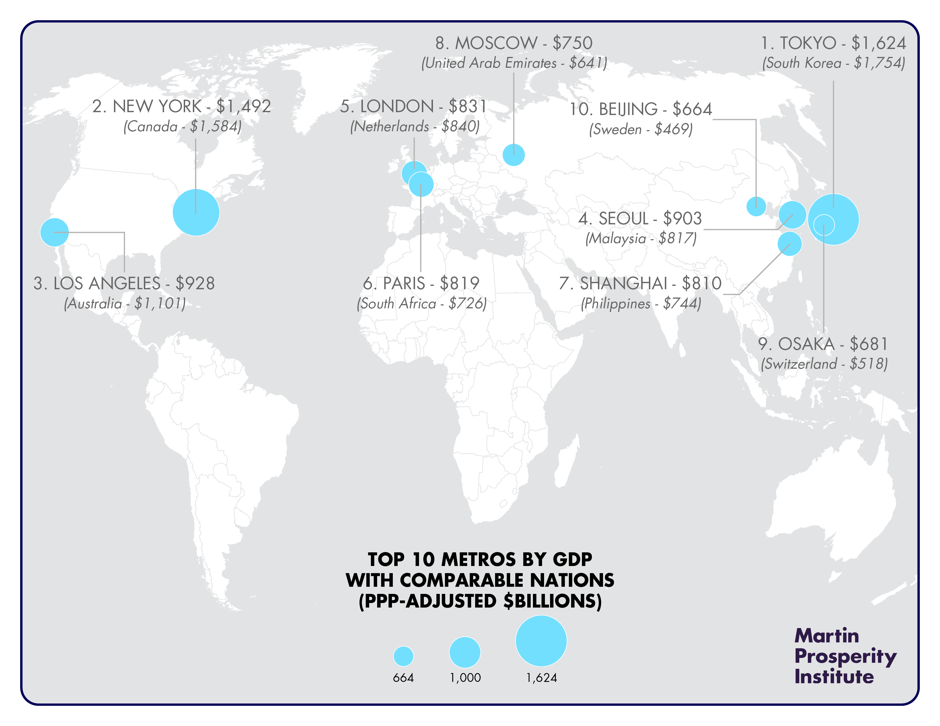 A few highlights noted by the article:
Tokyo, the world's largest metro economy with $1.6 trillion in GDP-PPP, is just slightly smaller than all of South Korea. Were it a nation, Tokyo would rank as the 15th largest economy in the world.
New York City's $1.5 trillion GDP places it among the world's twenty largest economies, just a tick under those of Spain and Canada.
Los Angeles' $928 billion GDP is bit smaller than Australia's, with $1.1 trillion.
Seoul ($903 billion) has a bigger economy than Malaysia ($817 billion).
London's $831 billion GDP makes its economic activity on par with the Netherlands ($840 billion).
Paris, with $819 billion in GDP, has a bigger economy than South Africa, $726 billion.
The $810 billion economy of Shanghai outranks that of the Philippines, with $744 billion.
To put things in further perspective: if you added up the ten largest metropolitan areas, you'd get an economy of over $9.5 trillion, bigger than the Japanese and German economies combined. Add the next ten largest metros, and you get the second largest economy in the world, at $14.6 trillion, less than four trillion shy of the U.S.
In other words: Cities really are the new power centers of the global economy—the platforms for innovation, entrepreneurship, and economic growth. But when it comes to fiscal and political power, they remain beholden to increasingly anachronistic and backward-looking nation-states, which has become distressingly obvious with the rise of Trumpism in the United States and populism around the world.

The greatest challenge facing us today is how to ensure that global cities have the economic, fiscal, and political power to govern themselves and to continue to be a force for innovation and human progress.



Very relevant question as the balance of power both within and between countries shifts to certain global cities, especially in the developing world.
What are your thoughts?