Depending on where you live in the world, your foreign policy priorities will vary wildly. That is the conclusion of a 40-nation study conducted by the venerable Pew Research Center, which asked respondents to report their levels of concern about the following international threats: global climate change; global economic instability; ISIS; Iran's nuclear program; cyberattacks (be it on governments or private institutions); tensions between Russia, its neighbors, and the U.S.; and territorial disputes between China and its neighbors.
Here is a map of the top threats perceived in each country, courtesy of The Atlantic:
The following chart breaks down the percentage of respondents that marked each a particular threat, with underlined figures reflecting the second-most pressing concerns.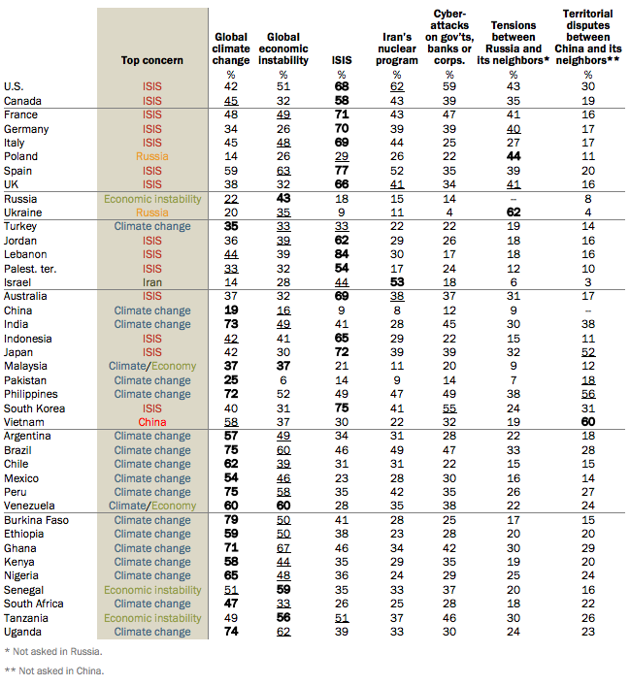 You can see a more colorful and interactive version of the above chart at The Guardian. 
Needless to say, these results say a lot about a country's political, social, and geographic circumstances. It is pretty clear why Ukraine and Poland would rank Russia as their top concern, given both current tensions and a long history of conflict with their larger neighbor. For similar reasons, Israel is most concerned about Iran, and Vietnam has many scruples with China (indeed, tensions between those states have been on and off for millennia).
Moreover, there are several clear regional trends: worries over climate change is strongest in Latin America, Africa, and Asia — in other words, the developing world. In contrast, fear of ISIS is most evident in the developed nations of North America, Western Europe, and Australia, as well as countries in the Middle East.
Somewhat surprisingly, economic instability is a secondary concern in many places, which might reflect the relative stabilization of most countries' economies. A more cynical interpretation is that people are far more wrapped up in the sensationalism and gripping brutality of terror groups like ISIS than of more far-off and difficult to perceive threats like climate change or the economy.
Cyberattacks remain the least worrying for most citizens of the world, at least for now; things might change as technology because ever-more integrated into everyday day, or once a high-profile and calamitous cyberattack rouses greater attention and concerns.
Though Iran's nuclear program was only a top threat for Israel, in more than half of the countries surveyed, a third or more respondents identified it as a matter of concern. (Note that this poll was conducted prior to the recent nuclear deal, so there is no telling how that has impacted public opinion.)
It is worth pointing out that this poll was only carried out in 40 of the world's nearly 200 countries; thus it is more an approximation of collective global opinion. Much of Africa and Asia is left out, though it is safe to say that climate change would remain a top matter of concern, given the pattern among other developing states. (Central Asia would probably be a mixed bag.)
Given that climate change is a far more existential threat than ISIS (at least for any nation not near or involved with interstate tensions), this poll seem to confirm a longstanding psychological observation: as I noted in my statement about economic instability, it is far easier for people to be worried about something they can clearly identify and label as bad, then something that is harder to pinpoint, visualize, and understand. A brutal terrorist group is simpler and more visual than the complex dynamics — and for that matter solutions — regarding economics and climatology.
What are your thoughts?